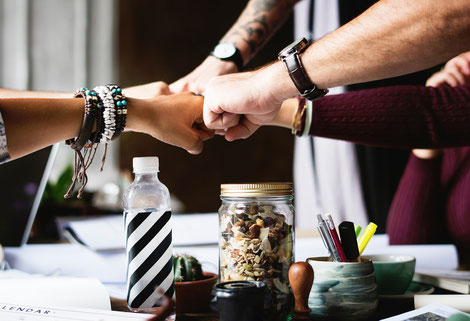 As somebody who has plenty of experience in meeting new people, the key is to find people who are also interested in meeting new individuals and making friends.
There are many places to meet new people, like on the street or in a library. However, the problem is the people you could meet there are not necessarily interested in making new friends.
I am not saying that you can't make good friends in your gym class, but most people are just there to do their thing and not to socialize much. Here are some of my proven ways, how to meet people similar to you and find new friends.
1. Internations
(www.Internations.org )
Internations is a community that connects expats and global minds. It can be found in 390 cities in the world. Every month, Internations organizes event in cities around the world.
Usually, people who attend these events are expats working for embassies, international organizations and companies. However, there are always local people who are open-minded and enjoy international gatherings.
Apart from the official event, there are many groups and communities within the community. Expats and local residents organize different activities, and everybody is welcome to join.
You can find almost any activity that you like, such as: language groups, art groups, dancing, coffee lover clubs, brunch etc. You will meet a lot of people from different countries, who are very friendly and interested in welcoming new people into their community.
2. House Hash Harriers
This is one of my personal favorites! The first time I went to HASH, I met 20 people and was invited to two different parties. I become a regular guest and met great friends there.
It can be found almost everywhere. The best way to establish first contact is to find a Facebook group in a particular city or google it as there is no official global website. It attracts people of different ages, who enjoy spending time outside. The definition of HASH is that it is a drinking club with a running problem.
Usually, they meet every week or every second week for a 5k run or a walk. The number of attendees varies, but on average at least 10 people show up. Afterwards, drinking beer is a must followed by fun games. Apart from the regular meeting, they meet up for drinks, dinners and sport events.
3. Couchsurfing
(www.couchsurfing.com )
Even though couchsurfing is a place where you can find a place to sleep when traveling, it is a good place to meet people. The couchsurfing community organizes meet-ups on a regular basis, where you can meet travellers and locals. Also, there are a lot of groups and events that you can join from city night life groups to language ones.
I also believe it is great place to meet people if you enjoy giving tours of your city. My friends and I did it couple of times. We met people from so many places, and practiced foreign languages. Also, it works the other way around. If you are new in town, you can find locals to show you around.
4. Toastmasters
(www.toastmasters.org)
I have joined Toastmaster's last year and I can claim it is a great place to be to improve leadership and communications skills, and more importantly to meet new amazing people.
The club can be found all over the world. There are some that have meetings in local languages, and there are many international ones with meetings in English. Their gatherings are held every month, usually on Thursdays; and sometimes even every week if there are a lot of people. By attending a meeting, you can give speeches or rate one.
There are many additional social activities too as drinks after every meeting, contents, conferences where you can hang out with individuals from various countries, different age groups and professions.
Most importantly, it is positive and supporting community of people, which is educational and enjoyable.
5. Charity organizations
There are many charity organizations in every city, so whatever you are passionate about—whether it's children, dogs, cats, etc.—try to find a suitable charity organization.
It will also give you an opportunity to meet people with the same interests. My friend is a big dog lover, and found an organization to volunteer for. She met many individuals, who became her friends by working on the same cause.
6. Group sport clubs
A lot of my friends are members of non-professional sport clubs where they play basketball, volleyball, soccer, etc. and, at the same time, meet new friends.
The thing about a group sport is that teams are very important. When you play a game, you have to work together towards the same goal. With the mutual positive experience, you tend to bond with your teammates.
Also, after a game, many people go out for a drink or dinner and tend to hang out regularly. So, if you like group sports and want to meet new people and make friends, joining a sports club is a good idea.
These are my proven ways to meet new people and made nice friendships. What are yours? How do you make new friends?
---
Download our free E-book to learn more tips on how to make meaningful relationships